Guinness Nigeria Undergraduate Scholarship Scheme 2018/2019 (Fully Funded)
Exampulse Writer
What You Need To Know About Guinness Undergraduate Scholarship
Guinness Undergraduate Scholarship is now open and applications are being received from eligible candidates from which adequately qualified students. Guinness Nigeria is committed to providing life-changing schemes to promote the development of youths. This Scholarship provides full tuition for students currently studying in Nigerian Polytechnics and universities. Guinness has host-communities and it is advised that students who are from those communities to apply for this scholarship.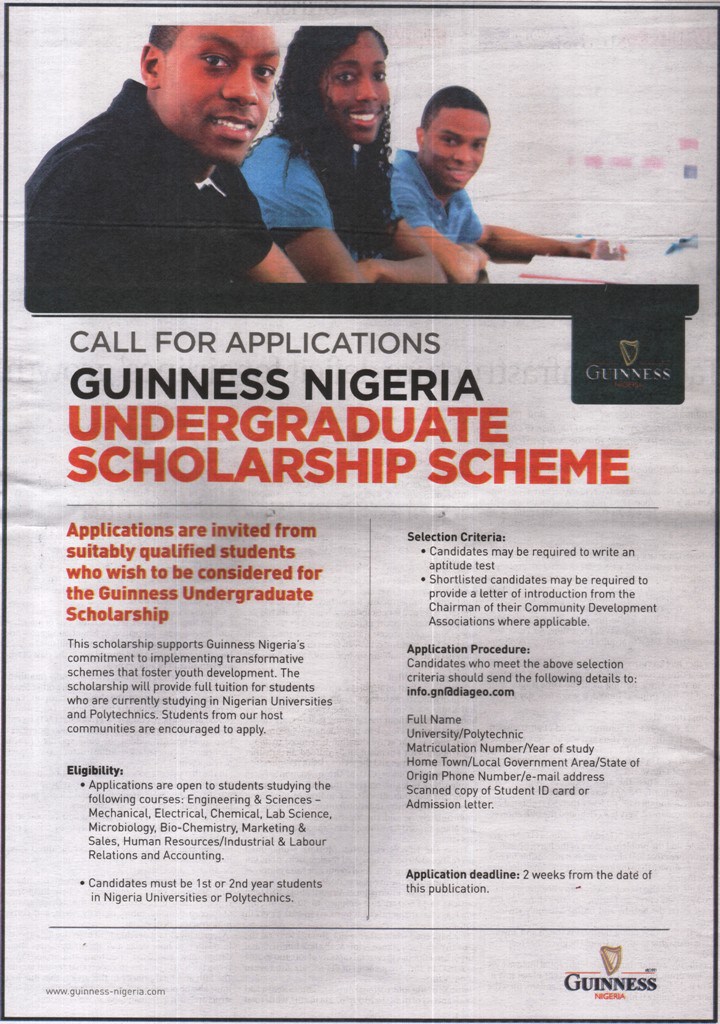 Deadline for application is 12th October
Host Country
The Scholarship is hosted at any university in Nigeria. Click this link if you are looking to get international scholarships for Nigerian students.
Eligible Level/ Field Of Study:
The scholarship is open to 100 or 200 level undergraduates in a Nigerian University studying any of the following courses. Science & Engineering  – Electrical, Chemical, Mechanical, Lab Science, Bio-Chemistry, Sales and marketing, Accounting and Human Resources.
Selection Criteria For Guinness Undergraduate Scholarship
There may be a need for candidates to write an aptitude test. In case you will be required to write a test, we have Guinness Undergraduate Scholarship past questions and solutions for you to prepare with.
where applicable, shortlisted candidates may be required to provide a letter of introduction from the chairman of their community of their Community Development Association.
How to Apply For Guinness Undergraduate Scholarship/ Documents Required For Guinness Undergraduate Scholarship
Once you are sure you fit into the criteria listed above, the following information should be sent to  info.gn@diageo.com 
Full Name
University/Polytechnic
Matriculation Number/Year of study
Home Town/Local Government Area/State of Origin
Phone Number/e-mail address
Scanned copy of Student ID card or
Admission letter.